Address:  59 Ramblewood Rd.  Pittsburg, NH  03592  (603) 538-6948


For the safety of our guest, staff and community in general, you will notice some modifications to our normal operations, modified housekeeping services and enhancement to our rigorous cleaning protocol. It is recommended that you make your reservation prior to arrival.  Linens will only be provided for parties who are not able to provide their own, an additional charge will be added to the invoice. Cloth face coverings should be worn when inside the office area.

Due to protocols such as disinfecting cottages, check in time will be NO earlier than 3PM.
State Regulations requires us to ask the following questions upon your arrival:

Have you been in close contact with a confirmed case of Covid-19? (Healthcare workers caring for Covid-19 patients while wearing appropriate personal protection equipment should answer NO to this question.) 
Are you experiencing a cough, shortness of breath or sore throat?
Have you had a fever in the last 24 hours?
Have you had any changes to your taste and smell?
If you answered 'Yes" to any of these questions , please do
not put our employees and other guest at risk and come
back another time when you are feeling better. All deposit
will be returned.
Cabins and Campsites in NH's Connecticut Lakes Region
Above the notches and surrounded by an international border, Pittsburg New Hampshire's lakes and streams form the headwaters of the Connecticut River. Thousands of protected acres of forest keep the water pure and wildlife active. Explore the forests on the expanding network of hiking, ATV, biking, snowmobile, and logging roads, or just sit back and enjoy the tranquility of the lakes and rivers.
Check Availability  Online or call +1-603-538-6948
Log Cabins
Take your pick from one of eight cozy year-round cabins, five lakeside on First Connecticut Lake, one hillside and two tucked into the woods.
Wifi & Verizon • Pet friendly with restrictions • Fireplaces • Trail Access
Camping
Breathtaking views and a quiet atmosphere in the heart of the Connecticut Lakes Headwaters protected area. Connect directly to the Cohos Hiking trail.• Water & Electricity • Free Showers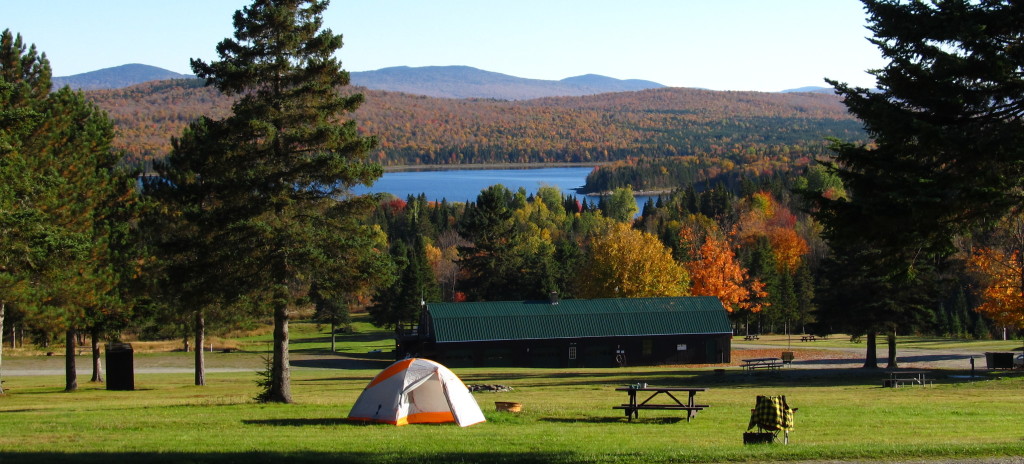 Office and Store
Up-to-date information and logistics to help you make the most of your trip. We're here to help, our office opens at 8am daily. Call or stop by!
Maps • Area Information • Billiards • Book Library
Why Choose Us?
Direct access to the Cohos Hiking Trail and Pittsburg Ridge Runners snowmobile trail network, as well as private waterfront and boat rentals on First Connecticut Lake on the section of Rt. 3 known as "Moose Alley".  We offer over 30 years of area knowledge and hospitality, letting you know about and where to have fun. We hope you'll join us!