Hello! We hope everyone had a safe and relaxing Memorial Day Weekend. Although our weather sources kept us doubtful about seeing blue skies, we were once again pleasantly surprised to see good periods of bright warm sun, gorgeous sunsets and rainbows. Our cabins were buzzing with life overlooking First Connecticut Lake as visitors and locals launched their boats and threw a line. Our campground had a mixture of tents, trailers, and RVs that provided a fun, varied view from the office.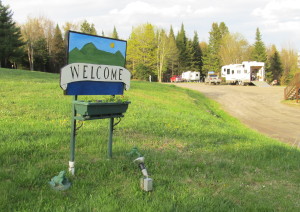 If you have visited us this season or seen our website you might have noticed some changes. Our new mountain profile logo has been launched and can be seen on our printed materials, staff shirts and campground sign. The new website was launched this spring to show more recent photos and integrate our Facebook, Instagram, and Tripadvisor pages in one place. We also included more activity suggestions, and would love to hear what other material you would like to see. In addition, some new faces you'll be seeing include us, Kelsey and Kirsten, Paul's nieces, and Chaz who have moved up to the area to help run the business. We're excited to meet you all and continue to provide a wonderful experience up here in Pittsburg.
In other news, the Ride the Wilds ATV trail system opened up for the season and Pittsburg parking lots saw a quick transition from cars to ATVs. Our hiking trails are  drying out in time for the summer season, although we still recommend bringing old shoes or boots with you. There is a lot to look forward to this summer and we are starting to fill up in the cabins, especially during weekends and holidays. This means that if you are hesitating, reserve early and always check to see if there are any last-minute cancellations. As a reminder, we are pet friendly and do not charge for your furry friend to come along for the adventure. If you're looking to try something new on your next visit, a list of area events can be found on the North Country Chamber of Commerce Website.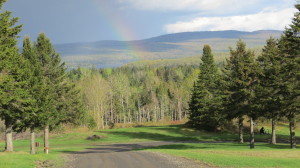 We look forward to hearing from you!