During the week of July 19th- 25th, we welcomed our first Ramblewood Artist in Residence, Liz Helfer. As a long time friend (full disclosure: since preschool) and talented artist, she came to mind immediately when we were looking for ways to identify Ramblewood as a great location for artists or of all types to visit and be inspired. She loved the concept and having visited Pittsburg before, put together the following proposal for the piece, "Blinkah".
Blinkah

168 x 78 x 24 inches

4.27 x 1.98 x .61 meters

Laminated safety glass, Spectra (TM) fiber, marine adhesive

Liz Helfer

2015

New Hampshire's north country is known for its pristine landscapes, outdoor recreation, and wildlife. A common sight is a rampant four-hooved pest: the white tailed deer. These iconic deer are not exclusively a northern New Hampshire or even a statewide problem; white tailed deer are responsible for over 1 million motor vehicle collisions every year in the United States.

Not all of these collisions end in human casualty but very often they end with a deer departed. There is much anecdotal evidence of this, including a local "deer slayer" vehicle, a talisman for the bounding destruction. Created out of shattered automobile glass, the grouping of a doe, fawn and buck give ironic beauty to creatures that are so controversial, so mundane.

Although we think of the human victims behind auto accidents, we often overlook the marginalized wildlife who are also affected. "Blinkah" is a little reminder about the wonder of a fleeting moment.
She built the fawn and sections of the doe at her studio in Boston, Massachusetts, then assembled the entire buck in our barn.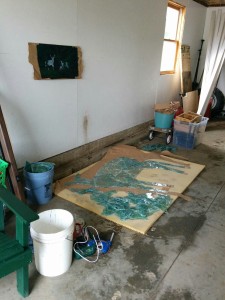 Then with gloves, patience, and super hero arm strength (they are heavier than they look) our crew walked them into the woods to where the stand next to the waterfall.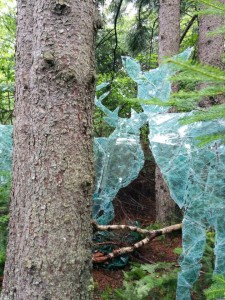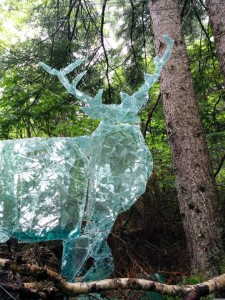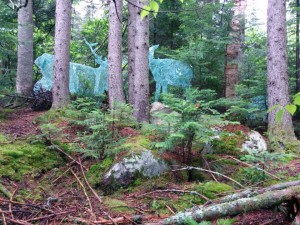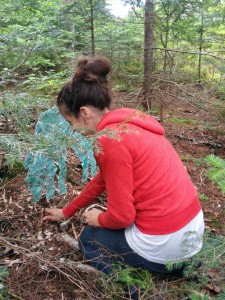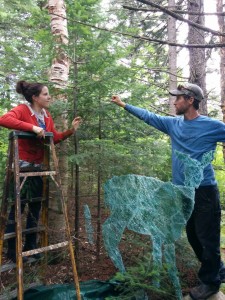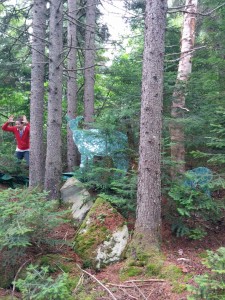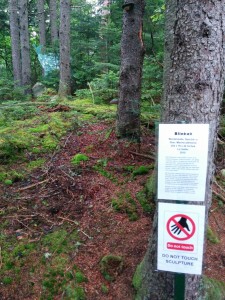 The installation will be up until the fall, so be sure to stop by before snow flies. Park near the office, and walk to the front lawn. As you look at the mountain view, the trail to the waterfall and sculptures can be seen to the right by a utility pole. Follow the mossy trail down the short hill through the forest, and when you get to the clearing by the waterfall look to your right.